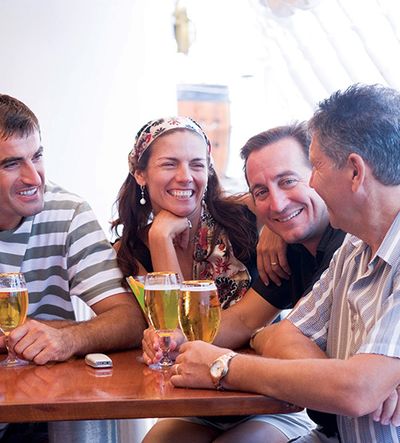 SMALL GROUPS – THE VERY HAPPY MEDIUM
More and more – we long to travel with other like-minded travelers who share our love for a place. We often want to share what we are experiencing with others. It can add a wonderful dynamic to any trip. But we don't want to be herded in large groups onto trains, boats and buses. We don't always want go it alone either trying to figure out everything on our own. Enter the small group experience. Traveling abroad with a core group of people who wish to maintain a healthy balance: time with knowledgeable guides introducing us to the culture and paths less traveled, social gathering time to share stories, and our own precious alone time. Plus, the value of traveling with a small group makes it attractive when compared to traveling solo or with a large group. In other words, it's worth it!
Depending on the type of trip – small groups could be parties of only 6 or 8 in a Food and Wine Countryside Tour or up to 100 or more if you are on an exotic cruise in Antarctica, or sailing the coast of Thailand, for examples. The key is that Where To World is a BIG FAN of SMALL GROUP TRAVEL. We strive to find the best ways to maximize your time away – or we'll gladly help you create your own small group vacation! Let's discuss your plans to see how we can help make the most of your time and money while discovering new places, making new friends and enjoying your own quality time away.